Sudoku Instructions - About The Program
The Sudoku Instructions program has been made by me: Erik Christensen. I live with my family in Copenhagen, Denmark. I love math, science and playing with numbers. I have

been programming for many years and have made numerous computer programs including programs for data management, computer graphics and statistical analysis.
Because of my fascination with sudoku I decided to make this program. It is quite popular in the family and among our friends. My wife, children and other members of the family use it regularly.
I decided to offer the program on the internet to other people including you, who have reached this site right now.
The program has been tested carefully to ensure optimal performance. Thanks to an efficient program coding, the program will take up very little space on your computer. The program is guaranteed free of viruses.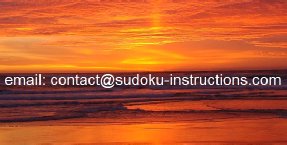 If you have feedback or any question about the program you are welcome to contact me using the email address, which is at the end of the program's help file. However, the help file itself should answer most of your questions.
I wish you the best of luck with the program!
Copyright: The Sudoku Instructions Programming Unit - All rights reserved.